Now they are here! Brand new beautiful steam products! A steam shower enclosure, Vista, and a steam column, Stella. These steam products are the perfect solution for the home. A steam enclosure or column can be placed in a bathroom instead of the ordinary shower. Then you have both a steam bath and a shower in one. So no extra space is needed!
Vista is a slimed steam shower enclosure with true Scandinavian design. It has matt black, minimalistic profiles without a threshold for a modern and luxurious look. The glass walls are smoky grey for an extra graphic effect. In the ceiling there is a rain shower and an RGB (colour) light can be added for colour options on the back wall.
Go to Vista Steam Shower Enclosure
Stella, the steam column is embedded on this back wall. Its black front matches the enclosure and can be used on its own to design a personalised steam space. The hand shower, thermostat and mixer are of European high-quality material. The steam outlet is very silent and has a fragrance compartment for that luxurious feeling.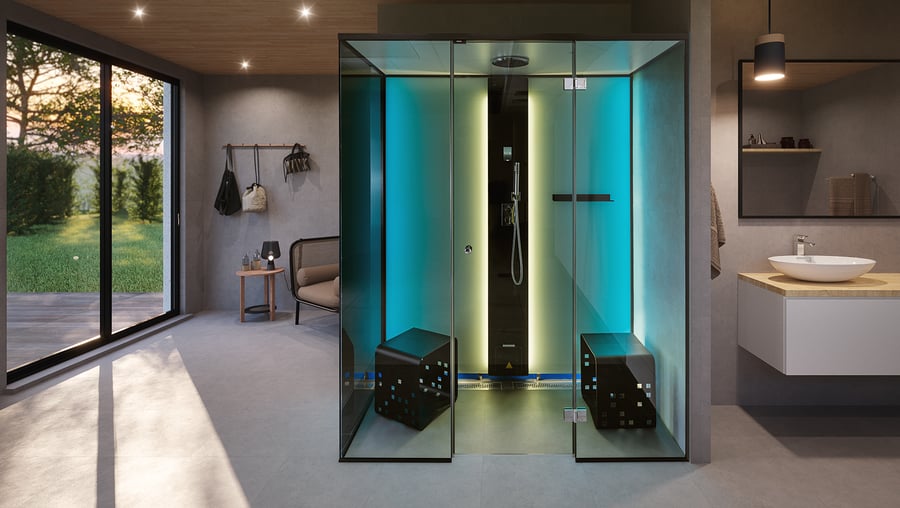 – We have looked for details that makes the steam shower take its place in the room. We have minimized the profiles, to enhance the view, the Vista, through the sober smoke-coloured glass. The black profiles, and the thin insulated roof, distinctly frame the mysterious cube of steam. Enjoying a cooling rain shower at the same time as tropical humid heat envelops you is an awesome experience which we want as many as possible to experience, says Gustav Vassegård technical designer for Tylö.
The steam gives a softer bath form where the heat is at 40-45 degrees and with this new product it starts in 2 minutes, and soon you have a full warm steam bath. Additionally, a steam bath uses less water than a shower, so it is good for both you and the environment.