Elevate your relaxation with Crown sauna heater and Reflection sauna room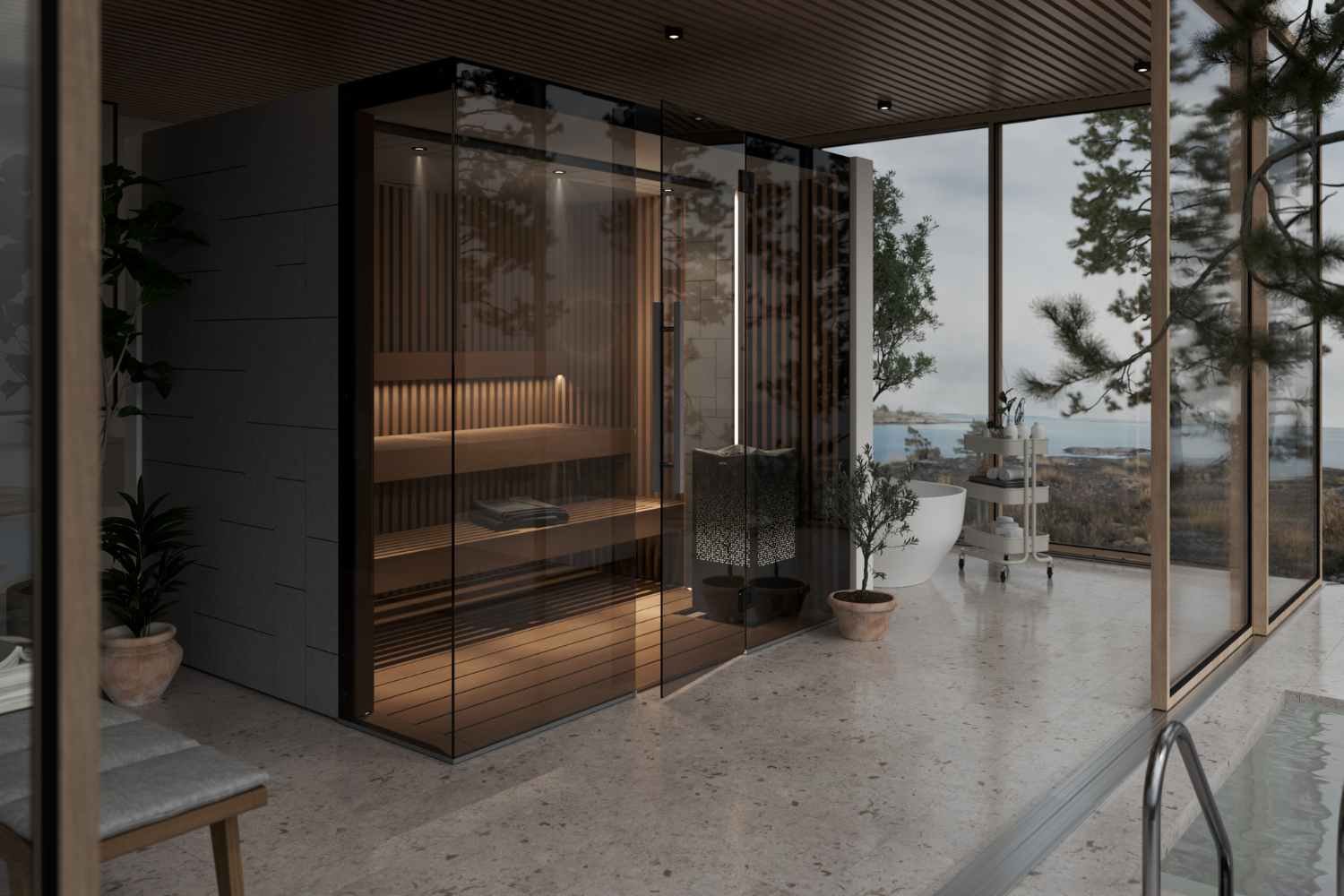 In the world of wellness and relaxation, Tylo has always been at the forefront of innovation. This time, we are proud to introduce two remarkable products that promise to transform your sauna experience into something truly extraordinary: the Crown Sauna Heater and the Reflection Sauna Room. These two products, designed with meticulous attention to detail, combine cutting-edge technology with elegant design to create a sanctuary of well-being and relaxation in your home.


The Reflection Sauna Room: Where luxury meets tranquility
Step into a world of serenity with the Reflection Sauna Room. Its name speaks volumes about what you can expect from this stunning creation. The smoked glass front, which beautifully reflects the outside world, sets the tone for an experience that is nothing short of extraordinary.
Craftsmanship and technology in perfect harmony
Designed with meticulous attention to detail, the Reflection Sauna Room incorporates exclusive craftsmanship and advanced technology solutions to provide a comfortable and immersive sauna experience. The well-hidden electronics and lighting in the portal create a seamless and user-friendly environment, allowing you to fully enjoy the peaceful surroundings without distraction.
Unique features that set Reflection apart
Here are some of the features that make the Reflection Sauna Room truly unique:
Spotlights x 3: Illuminate your sauna experience with adjustable spotlights.
Built-in Elite Control Panel: Easily customize your sauna settings for the perfect relaxation.
Built-in high-quality bluetooth speakers: Enjoy your favorite music while you unwind.
Neon LED in portal and backrest: Create a soothing ambiance with subtle lighting.
Optional flooring: Customize your sauna room to suit your style.
Uniquely patterned valchromat®: Elevate the aesthetics of your sauna with an exclusive surface design.
The Reflection Sauna Room is not just a sauna; it's a work of art that brings elegance and luxury into your home.

You can choose between Ribbed interior and panels, or Wide interior and panels.

Meet Crown: The epitome of sauna luxury
Prepare to be captivated by the majesty of the Crown Sauna Heater. This floor-standing heater not only provides exceptional performance but also elevates the visual appeal of your sauna.
The Crown sauna heater experience
Symmetrical design and elegant lighting: Crown's symmetrical design and elegant lighting pattern cast a warm, soothing glow throughout the sauna, creating an ambiance of relaxation and tranquility.

Optimal airflow and heat circulation: The eye-catching Crown grill ensures that heat circulates evenly throughout the sauna, maximizing the benefits of the heater's advanced technology.
Your sauna, your way
Whether you prefer a hot, dry traditional sauna or a milder temperature with a touch of humidity, Crown has you covered. Choose between our traditional sauna heaters or our Combi heaters for a Soft Sauna experience. Available in both Black and Grey, Crown seamlessly adapts to your preferences.
Energy efficiency that saves you more
Did you know that the Combi version of Crown can achieve energy savings of up to 25% compared to traditional heaters? By utilizing temperatures of 65-70°C and a humidity level of 35%, it's an eco-conscious choice that doesn't compromise on comfort.
Specifications designed for your convenience
Easy to place: Crown can be conveniently positioned in a corner, against a wall, or in front of glass, offering four equally beautiful and visible sides.

Fast warm-up: Equipped with IntelliAir air chambers for efficient heating.

Ample stone reservoir: A deeper reservoir allows more time for water to vaporize, enhancing the sauna experience.

Advanced technology: Crown features built-in electronics with Elite control and Cloud functionality, along with built-in lights.

Easy installation & maintenance: Accessible without the need to turn the sauna heater to the back side, ensuring hassle-free installation and upkeep.
Elevate your sauna experience today
With the Crown Sauna Heater and Reflection Sauna Room from Tylo, you're not just investing in sauna products; you're investing in a lifestyle of well-being, luxury, and relaxation. Experience the extraordinary and make your home a sanctuary of tranquility and rejuvenation with Tylo's latest innovations. Discover the perfect balance of design and technology, where every detail reflects our commitment to your well-being.

Available in Black and Grey as standard options, but can be created in different colors, patterns and material!
As all Tylö heaters, you can choose between a traditional sauna heater or a Combi sauna heater for a Soft Sauna experience.
Also, the Combi version can achieve energy savings of up to 25% compared to traditional heaters by utilizing temperatures of 65-70°C and a humidity level of 35%.